In Memory
Rebecca Lou Adkins (Sanderson)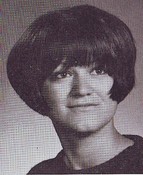 PAXTON – Rebecca L. "Becky" Sanderson, 57, a lifelong Paxton
resident,passed away at 2:15 p.m. Friday, Oct. 24, 2008, at St. Joseph
Hospital, Bloomington.She had been in failing health after a
seven-month illness.Funeral services were held at 10:30 a.m.
Tuesday, Oct. 28, 2008,at the Ford-Baier Funeral Home,
406 E. Pells St., Paxton,with Pastor John Bonacorsi officiating.
Burial followed at Mt. Olivet Cemetery, rural Rankin.
Becky was born Nov. 28, 1950, in Paxton, the daughter of Welby V. and Betty J. Deck Adkins.
She married Douglas W. Sanderson on Oct. 25, 1975, in Paxton. He survives.
Also surviving are two sons, Brian Sanderson of Highland, Calif., and Lonnie Sanderson of San Bernardino, Calif.; one daughter, Valerie (Roy) Grace of Paxton; two grandchildren; two brothers, Welby Adkins of Paxton and Mark Adkins of Ludlow; three sisters, Connie Rutledge of Rankin, Patty Polson of Loda, and Rhonda Stout of Paxton; and numerous other relatives.
She was preceded in death by her parents; one brother, Jack Adkins; and one sister, Donna Adkins.
At the time of her death, she was employed by the Paxton Clinic. She was a member of the Christian Life Church of Rantoul.
She enjoyed reading, crafts, crocheting, cooking, antiquing and shopping. She collected Hull pottery.
Most of all, she enjoyed her family.
Memorials may be made to the American Cancer Society or a charity of the donor's choice.
Published in The News-Gazette on 10/26/2008