In Memory
James Lee Ireland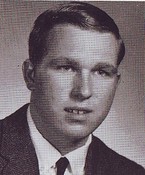 Jim passed away on Saturday, September 1, 2012. Jim was born on January 27, 1950 at Burnham Hospital in Champaign. He was preceded in death by his father, Jack; two brothers, Robert and David, and his first wife, Janet McBain. His mother survives, along with his daughter, Amber Bartelemey of North Aurora, and grand-daughter Hannah. Also surviving are his wife, Leslie, together with two stepsons, Andrew, and Joseph Stancook Jr. (Brandy) and a stepdaughter, Katie Benning (Matt) along with grandson, Luke.
Jim graduated from Paxton High School and attended Parkland College in their first class in 1968.
During the course of his lifetime, Jim held several positions in the Champaign area, most recently at Carle Clinic and Hospital. He retired from Carle in May of 2012. Jim enjoyed Indian lore, Civil War history, but especially country music and camping with his wife, Leslie.